Quick, smart business decisions on top-level strategies to everyday operational issues is key, but adopting the right technologies to support the different types of decision-making is critical for your success.
Written by: James Davies, Executive Vice President of Product
In the late 1940s, J. Lyons & Co. had a problem with making crucial business decisions. As the Starbucks of its day, the company built a successful café/restaurant business, with 250+ teashops and three flagship "Lyons' Corner Houses" on London's high streets.
Supplying all locations with newly baked cakes and fresh produce every day became a hugely complex challenge. To scale, the company had to find a smarter way to make the right decisions.
Lyons' senior management made an inspired move that modern businesses would consider obvious—but at the time was completely unheard of. Today, we recognize this as a combination of just-in-time manufacturing and logistics optimization.
They went to the University of Cambridge and commissioned two distinguished mathematicians to build a general-purpose electronic computer. Their aim? Digital support for the organization's decision-making.
The machine, known as LEO, was online by 1951, helping Lyons make fast, effective decisions on everything from order management to payroll. As the first company in the world to use a computer to solve business problems, Lyons set a precedent that would ultimately transform the way organizations approach decision-making.
What role does modern technology play in businesses' decisions?
For today's businesses, the choice isn't whether to use technology for decision support, but how.
Different types of decisions require different types of technology to support them. Without a good understanding of the kind of problem you're trying to solve, it's impossible to pick the right technology to solve it.
Broadly speaking, we can divide decision-support problems into four categories, aligned along a spectrum.
At one end, we have simple, routine operational decisions that need to be taken every day. At the other, top-level strategic decisions that can affect the entire future of the business.
Let's go through these categories one-by-one, and identify the types of technology that can help your organizational decision-making in each case.
Category 0: Decisions that aren't really decisions
Before we start, a little groundwork.
Technically speaking, every action a business takes is the result of a decision. A company's directors, for example, could technically decide not to pay employees' salaries this month.
However, in the real world, most (solvent, well-run) companies would not consider the payment of salaries as a decision; it's just routine business as usual.
Since these types of "non-decisions" don't require any serious input from business leaders, they are prime candidates for automation by technology—which is why payroll processing was one of the first applications developed by Lyons back in the 1950s.
Today there are equivalents in all kinds of routine data management and data processing technologies, which make up the core functionality of modern ERP, CRM, HR and financial accounting systems.
Category 1: Operational decisions with known parameters
The first category comprises well-defined problems where the decision criteria are defined and the data required to make a good decision is available.
Examples might be problems such as:
"How should we decide whether to approve this employee's holiday request?"
"What are the best products for our call center team to recommend to this customer?"
"How should we allocate our conference rooms today to make sure everyone's meetings can go ahead?"
Choosing the appropriate type of decision-making technology depends on the complexity of the problem.
1) Business rules engines
In simple cases such as holiday request approvals, it's possible to boil the problem down into a set of simple business rules:
"no more than 20% percent of the members of any team may take holiday at the same time", and
"no holidays are allowed on the day of our big annual sale", etc.
These rules can easily be encoded into a rules engine and automatically processed to either make the right decision automatically. Alternatively, they provide a suggested course of action for a manager to approve manually.
2) Artificial intelligence models
In more complex cases such as product recommendations or "next best action" systems, a business rules engine can be a good starting point, but the state of the art is to use artificial intelligence (AI) and machine learning (ML) models.
Instead of human-designed business rules, these models rely on sophisticated statistical analysis of historical data. For example, this may be customers' purchase histories.
This is then used to work out the options with the highest chance of success. In this case, it may be recommending hiking boots to a customer who has just purchased camping equipment.
3) Constraint solving and optimization
Other problems that seem simple at first, such as meeting room allocation, turn out to be much more difficult.
They are in the same family as complex logistics problems, such as deciding how to deploy a fleet of delivery vehicles to guarantee same-day delivery, or distributing items within a warehouse to optimize stock-picking.
In these mathematical optimization problems, the objective is to explore the problem space within a set of constraints and find either a single optimal solution or a set of non-optimal but "good enough" solutions, any of which will be able to achieve the specified goals.
Technologies like constraint solvers and optimization engines quickly identify answers that humans take years to discover without technology support, streamlining businesses' decision making.
Category 2: Operational decisions with unknown parameters
In many cases, operational decisions must be made even without the necessary data available.
For example, manufacturers might need to decide how much of a given raw material to buy in order to supply production lines over several months.
Due to lead times from the supplier, this decision may need to be made before manufacturers know what orders customers will place. One of the key pieces of information is not known—or even knowable—at the time of the decision.
Technology can't provide a perfect solution to these types of decisions. But, it can do much better than the old-fashioned approach of relying on instinct and intuition.
Business planning and forecasting solutions combine historical data, seasonal pattern information, statistical modelling and human input to provide a "best guess." This is not only more accurate than human intuition, but objective and capable of improving as new data is added.
Category 3: Simple strategic decisions
For most of the history of technology in business, operational decision-making has been the prime focus.
This is because computers excel at simple, repetitive tasks, whereas strategic decisions are more dependent on human insight and outside-the-box thinking.
Nevertheless, over the past two decades, technology has found a place in the strategic decision-making process through the rise of business intelligence (BI) and analytics solutions.
The role of BI tools
BI tools give strategic decision-makers the real-time insight they need to assess business performance and decide where best to focus. This is through extracting, aggregating and visualizing operational data from core business systems
For example, a BI tool might show senior executives that one product line is significantly outperforming all the others. It can also highlight rapid growth in a geography or market, or reveal the impact of a new competitor on their market share.
By drilling down from high-level dashboards to more detailed data, decision-makers can understand where the risk and opportunities are. In turn, they can fine-tune their business strategy to gain maximum advantage.
Category 4: Complex strategic decisions
But what about the big, high-stakes strategic decisions?
These encompass vast, many-dimensional problems like:
"should we acquire this company?"
"should we pivot our organization into a new line of business?"
"how can we best achieve digital transformation?"
In cases like these, analyzing existing operational information with BI tools will only give you a small part of the picture.
In fact, the data you really need to make an optimal decision just isn't available in any tractable form.
It's almost a chaos theory situation: practically any piece of information could potentially be relevant to the decision, and it's not feasible to synthesize all the possible factors into a form that a computer could process and understand.
Even the most sophisticated artificial intelligence can't (yet) model a problem at this kind of scale and multifaceted complexity.
We still need human leaders: business brains with the big-picture vision and keen strategic instincts to understand the ramifications, foresee the risks, and make the right call.
6 tips on making the right business decisions
Whilst not a simple feat, the four types of decisions your organization makes need not be too arduous. From technology to simple advice, there are steps that you and your business can make.
In an Entrepreneur article, six insights are shared:
1) Know the facts first and foremost before any choice is made
2) Place attention on results - both long and short term
3) Seek others' views
4) Relax and don't rush decisions
5) Focus on what is best for your business
6) Course correct if needed, but ensure data is the foundation
How can your organization shift the focus from data to action?
Even though technology may not replace human decision-making in the choice of top-level business strategies, it still adds value in supporting the execution of those strategies.
The classic problem for most organizations is the lack of structured processes to put strategic initiatives into action effectively.
The disconnect between strategic thinking and operational practice means that strategies are either not translated into tangible goals, or that those goals are not cascaded down through the business to a point where they can be delivered operationally.
As a result, it's often unclear whether strategies are working—or even if they are being put into practice at all.
Business intelligence solutions can typically only tell leadership teams what is happening at the operational level. They do not connect that information back up to the strategic level and explain why.
A strategy execution platform can help you bridge that gap. The tools help you to:
Manage strategy deployment,
Monitor performance against goals,
Achieve breakthrough, transformation, and
Drive continuous improvement in operational performance.
By acting as a single source of truth for strategic analytics, these platforms help senior leaders join the dots and make faster, smarter decisions about which strategic initiatives to amplify, which to fine-tune, and which to take back to the drawing board.
How can businesses make decisions with data silos?
The short answer is painfully and slowly.
The challenge here is that data on strategic initiatives is siloed in spreadsheets or department-level tools, which stakeholders need to update manually.
With no easy way to analyze information or gain real-time insight at project management level, it makes the connection between planning, execution, monitoring and improvement too tenuous.
To meet the demands of the Fourth Industrial Revolution, it's time for businesses to stop relying on ad-hoc tools.
i-nexus recommends a platform to manage strategy deployment, continuous improvement and operational performance. A platform for a single source of truth for analytics.
Such strategy execution platforms empower senior management to define clearly structured strategic goals and cascade them down through all levels of the organization.
Employees can then use an intuitive mobile app to log updates of the work they do towards each goal. The information then flows back up to a powerful analytics engine that provides real-time visualization of performance and progress.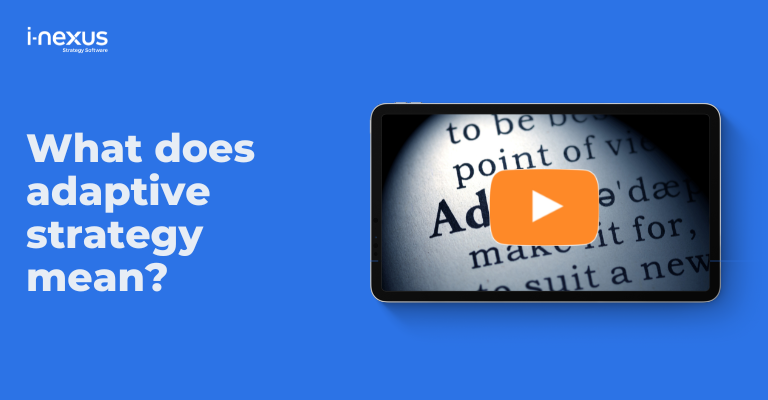 What next steps should your business take?
i-nexus can help you establish an enterprise-class strategy execution platform that will help drive a culture of continuous innovation and improvement.
By empowering you to convert strategic visions into far-reaching operational and transformational change, our platform helps your business harness disruptive technologies and seize competitive advantage.
Click here to visit our Strategy Execution Management knowledge hub, filled with content to support you in embracing the 'no normal' of strategy in the 2020s and beyond, or explore these recommendations::
The Ultimate Guide to Hoshin Kanri: Discover how focusing on the Japanese theory of Hoshin Kanri will support your business in better utilizing its people, process, data and technology to succeed with its commercial plans.
Strategy Execution in 2020 vision: Strategy Execution is the key to turn your vision for the 2020s into reality, and these are the trends your organization must take note of.
The Key to Strategy Execution: Uncover the benefits of excellent Strategy Execution, the organizations who have succeeded, and how your business can follow suit.


About the author
James Davies is i-nexus' Executive Vice President of Product. As an experienced software executive with 20 years of experience working in Silicon Valley, USA, James has held senior leadership roles in three venture capital backed software start-ups (including CEO, CPO and Chairman) and has delivered management consulting services to some of the world's largest technology companies.
If you'd like to talk more about the future of strategy execution, reach out to him on james.davies@i-nexus.com or connect with James on LinkedIn for the latest strategy execution insights.