Leading continuous improvement is about more than project management. These are 9 challenges which stand between you and success, covering COVID-19, change management, stakeholder engagement and technology.
Written by: James Milsom, Head of Marketing
Whether you're deploying your first improvement project or running an entire change portfolio, there are challenges that every leader is going to face.
These are the 9 challenges that stand in the way of your success.

1. COVID-19
While COVID-19 has affected much more than the world of continuous improvement, we would be remiss to not begin with this very real challenge.
As the COVID-19 pandemic evolves, consumer confidence has taken a considerable hit. That places more emphasis on routes to competitive advantage, and continuous improvement comes into play given its focus on deliver better customer experiences.
However, as a leader of improvement you will be faced with the same, if not more, demand for projects to drive greater value from your existing resources and people. Meeting that in a means which is safe presents a new challenge.
To that end, Zoom morning huddles, virtual Kanban boards, the use of Excel templates and continuous improvement software to manage your projects and entire portfolio of change must be considered.
2. Reason and purpose
The reason you are there and the shadow it can cast: it may be perceived that you are in the business to cut heads.
Ensure that you map out your stakeholder landscape and approach different members appropriately.
3. Leadership mentality
Are your leaders there to embrace change and support you, or will they act as resistors?
Change can be daunting. However, leaders must support their entire business by driving improvement, participating in the change and demonstrating the impact of different initiatives.
More important, perhaps, is how you talk to your senior leaders. Executives do not tend to like being told what to do, so be mindful of how disruptive non-supporters can be and ensure you bring them on the journey with you.
4. Existing knowledge and capability
Product / business knowledge can be empowering, but also disruptive should it mean that your internal customers are embedded in their current ways of working.
Not every member of your improvement team will have the same capabilities.
Perhaps you will have a number of black belts but the rest of your organization is made of people just at the beginning of their career.
You must be able to replicate previous projects and share best practice from more capable, experienced team members in an effective way to coach newcomers.
This ensures your grow your improvement capabilities in a sustainable way.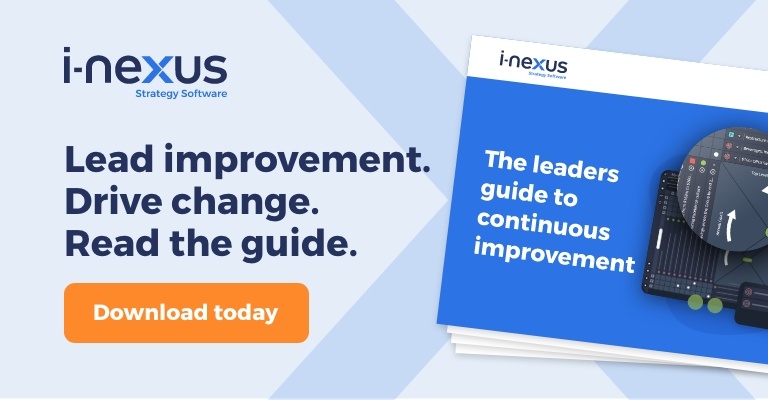 5. The base operations as a stable foundation (including data availability and quality)
How available is data in your business, is it treated as gold dust, or is there a reluctance to listen to data and instead focus on the narrative?
Data is the currency of improvement. It must be the foundation for your projects.
That means building out quality KPIs which will give you a clear indication of performance towards your project and strategic targets.
6. Fit for purpose method
Do not over engineer, nor cut corners, and certainly do not apply an improvement framework which is ill suited to the business.
7. Business as usual
Competing with the day to day is a harsh reality and often you end up firefighting.
Be it securing the right people for your improvement team, or simply winning the hearts and minds of staff who are in constant firefighting mode, the day to day can take the spotlight over your improvement initiatives if not addressed effectively.
And for those leaders who have implemented a continuous improvement program, there are challenges in sustaining your effort, namely around visibility of multiple projects.
For this to be easily manageable it is worthwhile considering investing in a platform which can provide this and underpin your continuous improvement operations moving forward.
8. Alignment of stakeholders and project teams
As your improvement program matures, your projects multiply. Aligning stakeholders and teams to multiple projects, all at different lifecycle stages with varying purpose and impact can become overbearing.
It is, therefore, crucial that your projects have clearly defined charters, KPIs, stakeholders and projected benefits, all of which should link back to your strategic goals.
And beyond that, it's important that empower your teams to own their performance, take charge of interventions, such as root cause analyses, and they can easily collect and analyze data.
9. The risk and opportunity of technology
The impact of COVID-19 means that we have all had to learn to work in a more virtual way.
That means now is the time to consider adopting technology and embrace virtual continuous improvement, however, you should be wary of the software you choose.
If you cannot link your improvement to your business' strategy and demonstrate ROI, steer clear.
After all, if your improvement projects are in isolation of your strategic goals, they are unlikely to deliver real benefits that the business needs in these extraordinary and challenging times.
Continue learning about continuous improvement
With these 9 challenges in mind, take a look at our continuous improvement knowledge hub or these additional resources to help you manage your projects effectively:
About the author
James Milsom is Head of Marketing at i-nexus. James has wide-ranging experience of markets such as telecommunications, energy, education and software.
As Head of Marketing, his drive is to raise awareness and understanding of the challenges facing enterprises in delivering strategic objectives and transformation amidst changing markets and the obstacles traditional tools and methods present leaders.

If you'd like to talk more about Strategy Execution, reach out to James on james.milsom@i-nexus.com or connect with him on LinkedIn for the latest insights.