What are the differences between top-down and bottom-up planning, and why should they go hand in hand to help your organization achieve more of its goals with less effort and complexity?
Written by: James Milsom, Head of Marketing
Any successful company relies heavily on planning. Planning is the fundamental trait that not only helps maintain business operations, but it allows decision-makers to take their strategies from a vision into a plan of action.
But, should planning come from the corporate level, communicated down to the rest of the organization for its execution, or should front-line staff, closer to their markets, products, and people, create plans based on the goals they have carved out with the c-suite?
It's common to find people viewing top-down and bottom-up approaches as opposites.
With a top-down approach, the company focuses on general endeavors to create specific goals for success. On the other hand, the bottom-up approach aims to synchronize the specific strategies in the workplace to a general framework.
Read on to discover the differences between top-down and bottom-up planning, and why they should go hand in hand to help your organization achieve more of its goals with less effort and complexity.
Top-down planning
Top-down planning keeps the decision-making process at the senior level.
Critics of this model would point to the assumption that senior management knows better than frontline workers.
With planning to start at the top of the company's hierarchy, typically in the c-suite, these attendees would be expected to contribute to the long term strategy of the organization:


Chief Executive Officer

Chief Financial Officer

Chief Revenue Officer

Chief Strategy Officer

Chief Operational Officer

Chief Marketing Officer
Here, the c-suite look at a three-to-five-year roadmap of where they want their organization to be.
The management team will develop an all-framework that is essential for the success of business processes, choosing the likes of Hoshin Kanri, OKR, and OGSM to translate the strategy into a coherent plan.
Depending on the size of the organization, however, it is entirely possible that a large consultancy firm would present a strategy to the c-suite, for their approval.
However, this route is even more removed from a c-suite formulated strategy, and while taps into the skills of experts in strategic planning, it is certainly detached from the organization's people.
From there, goals are set and then trickle down to lower levels.
Typically, you will find all the company goals and quotas made without consultation or guidance from lower levels.
After making such decisions, they will communicate through the chain of command to everyone involved in the operations.
The frontline workers must work on the specifics of achieving their target. The planning takes a keen interest in the macroeconomics of the current market.
Therefore, it will eliminate the need for checking details to achieve objectives.
Bottom-up planning
Bottom-up planning starts with the frontline workers. Instead of the decision being communicated down from the senior management, individual departments are given a chance to be involved.
With front-line workers contributing to the formulation of plans, it ensures that each unique area of expertise can contribute, using their appreciation of the details of their markets, products, and people.
Individual departments make the goals they want to achieve, then communicate them to the senior levels for approval. Each division has a unique potential and opportunity for growth.
The philosophy used in the bottom-up approach is that every sector in the company has a different workflow and can develop more meaningful and achievable targets given a chance.
The goals communicated to the management will require analysis and then created into a cohesive plan for implementation by the whole company.
The planning focuses on the microeconomics of each department in the company.
Therefore, it will follow each division's current and future trends to create growth opportunities.
The strategic plan will not constrict workers to abstract or intangible company goals. It empowers every division to define its goals according to its needs.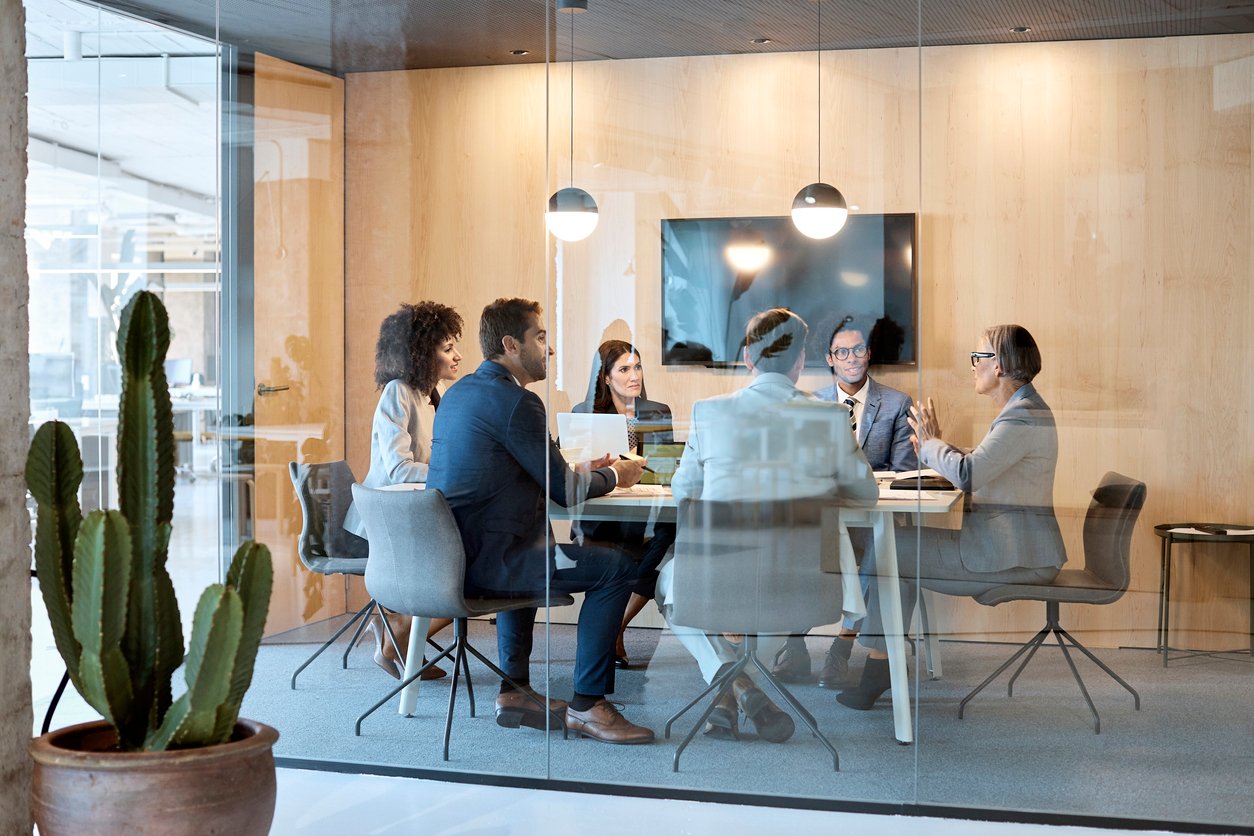 A top-down approach can often being seen as non-inclusive
Which approach should you use?
It would be best to plan properly according to your business procedures and culture.
Both top-down and bottom-up planning may look different, but they play crucial roles in a company's success.
The bottom-up approach applies to companies often in the early stages of development, where a smaller headcount often dictates this model. In contrast, the top-down approach is more likely to appear in an established business.
The top-down approach will steer your company in the right direction, aligning you to market demand. The bottom-up planning enables you to gain detailed guides on optimizing the operations of every department.
Pros for top-down planning
1. It doesn't waste time
By involving only a few people in making decisions, you can make them easier and faster. No time is wasted rallying various departments and frontline workers and then analyzing their performance to make a decision.

2. It takes less effort
The plans and directives come from the top of the organization so the message is received uniformly by all employees. No extra effort is needed to realign the objectives and endeavors of each unit or department.

3. It is common
Most companies use the top-down model. That means when you get new hires, you won't need to spend resources on teaching them how it works because they are likely to come from a company that uses the same structure.

4. Greater clarity
All decisions come from one place, and communication flows in one direction. This results in fewer misunderstandings and mix-ups, so everyone is in line with the goals of the company.

5. More accountability
It is easy to trace where a problem or inefficiency arises from when the teams are clearly defined and have their own responsibilities.
Cons for top-down planning
1. The goals may not be accepted company-wide
As the decision comes from only a select few, it is common for some departments to not agree with the plans.

2. It places more strain on leadership
All the decisions that affect even the lower-level employees come from the top. Leadership has to go through lots of research to be able to plan for all the levels. Failing to do so can cause significant problems.

3. It results in less creativity
The employees aren't challenged, stifling innovation and eliminating fresh perspectives.

4. It results in poorly informed decisions
There are some problems and material facts that only people who actively handle them can see. Top-down planning without soliciting feedback could lead to impractical and unattainable goals.
Pros for bottom-up planning
Some advantages to bottom-up management make it a proper fit for some businesses. These are:
1. Higher chance of meeting targets
Because all the department creates their own meaningful goals, they are more likely to meet them.

2. More informed decisions
Decisions coming from people who actually do the work consider all the details. Some important details are only visible to frontline workers.

3. Higher employee morale
The higher the morale of your employees, the higher their productivity. Feeling that they matter and their decisions are valuable increases their likelihood of being invested in the success of the team.

4. Employees get more room for creativity
Feedback, brainstorming, and criticism challenge the employees to grow and become more creative, improving the whole system.
Cons for bottom-up planning
Many companies don't adopt the bottom-up approach in their company for reasons such as:
1. Time wastage
Simple decisions that require the involvement of various departments can take too long to be implemented.

2. Lack of high-level insight
Most projects and business decisions are influenced by various high-level factors such as funding, budgeting, and forecasting. Without understanding these metrics, plans from departments may not be practical.

3. The "I" in team
If there are employees who have their own interests, they may influence decisions that benefit them at the expense of others.
Moving forward with your planning practices
The decision on which to implement depends on which trade-off between the pros and cons of the two is more balanced for you.
However, it is important to be able to adapt your plans if you want to be successful in this fast-changing business environment. No one knows your business better than the people who have their ears on the ground.
But you don't have to make the choice, there is a way to integrate them. If you would like to know how to bring the two together to improve your ability to execute your strategic plan, watch our Hoshin Kanri webinar boxset to get some ideas.
Learn more about improving your strategy execution
Continue exploring how to improve your strategy delivery by visiting our hoshin kanri knowledge hub, or with any of the below:
About the author
Here at i-nexus, I want to help you develop and find easier, more effective ways to deliver more of your goals, with less effort. As part of that, I'm passionate about creating the best content to overcome your challenges. Ask me about Hoshin Kanri and operational excellence guides for free copies.

If you'd like to talk more about strategy execution, reach out to me at james.milsom@i-nexus.com or connect with me on LinkedIn for the latest insights.