How can you explain the value of your continuous improvement projects? Discover how you can frame this from a services and manufacturing perspective.
Written by: Nigel Richardson
This is the conversation that matters. The conversation where the crux of the issue is addressed.
Regardless of the methodology, team, templates available to you to deploy improvement projects, it all leads to:
"So why should I invest in continuous improvement, what will it give us?"
Maybe you have been in this conversation many times, or maybe this is your first.
Regardless, be ready for this conversation in whatever format it takes, whether it be in your sponsor meeting, a board presentation, the lift or the corridor.
This question in itself is an interesting one and the tone and body language that sits behind it can yield valuable intelligence as to where the person you are talking to sits on that "sponsor vs customer of change dynamic" (a concept I elaborate on in my building a CI culture and team blog here).
In this blog I will share my experiences of handling this conversation and, ultimately, articulating the benefits and value of continuous improvement.
The two sources of continuous improvement value
I like to think of there being two sources of value for an organization when it comes to continuous improvement:
The what – the outcomes or benefits that can be delivered
The how – how it feels for the organization to deliver the above outcomes in an improvement driven way
The how - feeling
When it comes to the how - there is an abundance of literature out there on the empowering nature of continuous improvement, the value of the people doing that job on the ground having direct influence on how that work should be done in the future.
This type of positive experience can be associated with improvements in absenteeism, staff turnover and employee morale.
It would be useful to consult any information on this that your company can provide.
Also consider any history that the workforce have been through in terms of prior change, consultancy interventions etc.
Ensure you understand the perception of that history as that will be the badge you are initially wearing regardless of your own approach.
For the rest of this summary we shall focus on the more emotive topic of the benefits.
The what - benefits
This is the numbers, the basis of a Return on Investment and somebody in the organization will be considering this.
The below table shows some high-level guidance on what to think about when articulating the hard business value of your continuous improvement deployment.
I have highlighted some potential examples of how to explain the value of improvement based on the difference in focus between product and service organizations:
Manufacturing / Supply Chain

Services

Operational

Variable cost

Material Usage

Capacity (contact rate vs handle time)

Inventory / Working capital

SLA breach & other contractual fines

Labor

Loss reduction (e.g. claim value, fraud)

Energy

Cost of poor-quality e.g. complaints

Cost of poor-quality e.g. complaints

Fixed cost

Facility costs (rent, insurance)

Commercial

Customer experience

Lead time reduction

First contact resolution

Customer Feedback (NPS)

Customer Feedback (NPS)

Increased revenue – reduced stock outs

Increased revenue (reduced case handling times)

Contract renewals (confidence and margin)

Contract renewals (confidence and margin)

Reduce time to market (supply chain agility)

Cash

Reduce order to cash

Reduce order to cash
How to maximize the potential of continuous improvement
Now, some recommendations on getting creative when it comes to maximizing the potential results that your efforts could directly contribute to or enable.
1. Build breadth into your cost model
If you are manufacturing, consider more than material usage:
Consider cost of poor quality in its widest form (e.g. the cost of processing complaints).
Explore the fixed costs associated with holding unnecessary inventory (do you really need that 3rd party warehouse?)
If you are in a service center, think beyond handle time (the leaders will see through that):
Consider contact rate, a massive driver of cost but can be challenging to measure and change.
Again, look at the cost of poor quality, refunds processing complaints etc.
Also consider the decision making that sits in this workforce and the impact that could be had on the money spent in wrongful claims for example.

In the both of these cases, does poor performance result in a penalty?
How much is given back to customers due to breaches of contractual expected performance?
2. Align to commercial outcomes
How fast moving is the supply chain that you are part of?
Are lead times a competitive advantage?
Will enhanced quality performance win more bids?
Does your product suite change and evolve to anticipate market demand?
What if that those changes could be delivered to market in half the time?
If your service center is sales focused, could more revenue be made with the existing workforce?
Are potential customers left with a ringing phone?
Are people taking up your service due to the fantastic feedback from your customers on the buying and service experience?
In both these cases, are any of your contracts coming up for renewal?:
Would a pilot in those areas to shift performance provide both increased confidence of a renewal and potentially protect (or enhance) the margin in renewal negotiations?
How valuable your improvement projects are comes down to the detail (and how you explain it)
Unfortunately, the question of value is inevitable when you are proposing a shift in how a business operates.
Continuous improvement goes to the heart of your organization and seeks to transform is into one of learning, openness and daily striving for improvement.
With this change there is a natural element of resistance.
That is inescapable, but by forming clear, articulate points of value, such as the above, you can create realistic expectations about the benefits to be had.
And, like they say, the devil is in the detail.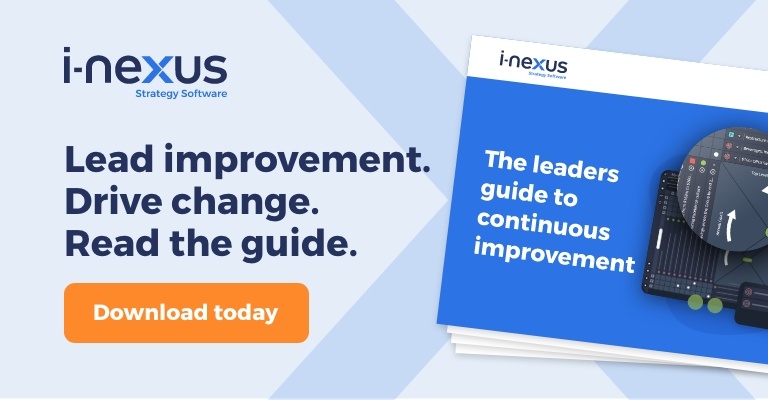 Continue learning about continuous improvement
Click here to learn more about the value of continuous improvement, or take a look at these content recommendations:
About the author
Nigel Richardson is a continuous improvement expert. His background spans 20 years in business transformation and continuous improvement across retail, pharma, aviation and IT supply chain. He is passionate about supporting organizations to achieve their strategic, transformational and improvement goals, and outperform their peers year after year.
If you'd like to talk more about your strategic challenges, reach out to him on nigel.richardson@i-nexus.com or connect with Nigel on LinkedIn for the latest Strategy Execution insights.