When change is the only constant, businesses must prioritize strategic initiatives to evolve faster than the competition. 2020 is the year when operational performance and strategic imperative will truly converge, engaging stakeholders at all levels of the business for success.
Written by: James Davies, Executive Vice President of Product
Strategy has been a board-level priority for organizations since time immemorial, but converting strategic objectives into real-world business change has always been a challenge.
Back in 2007, a major survey of 125 senior executives by Capgemini and the Economist Intelligence Unit found that "companies pay too much attention to setting objectives, and not enough to the mechanics and processes that will ensure these objectives are met".
In the years since that study, little has changed: senior leaders at most companies still see strategy design as their primary role, and deployment or management of the strategy as a secondary concern. As a recent article from EY advises:
"the one-off, annual board strategy session needs to be challenged. Boards should work with management to frequently revisit the strategic plan and its key elements and assumptions."
As we head into the 2020s, these lessons will finally be learned.
An imperative for transformation
The Fourth Industrial Revolution is gathering pace, and organizations that don't adopt continuous transformation as a central tenet of their philosophy are unlikely to survive.
For example, a study by Innosight shows that half of the companies listed on the S&P 500 in 2016 are expected to be replaced by 2026.
The threat to today's large, dominant businesses results from their inability to evolve with the needs of increasingly volatile markets:
"companies miss opportunities to adapt or take advantage of change […] they continue to apply existing business models to new markets, fail to respond to disruptive competitors […] or fail to adequately envision and invest in new growth areas."
The absolute necessity of delivering change means that companies' attitudes to strategy management and deployment are now starting to shift. For those organizations which have adapted and use digital solutions to drive the management of their strategy, analysts such as Gartner have identified a "correlation between consistent use of integrated tools and higher organizational performance".
In this article, we explore the major topics and trends in Strategy Deployment and offer four key predictions for the year ahead.
The four Strategy Deployment trends of 2020
In summary, Strategy Deployment in 2020 will be defined by four themes:
1) Deploying strategies will become increasingly difficult with over-reliance on outdated traditional technologies
2) Digital solutions will support a change in the role of corporate strategy functions
3) Connected action across functions, divisions and regions will be crucial to successful Strategy Deployment
4) Data will remain the biggest asset, but data access needs to be simplified
Read on to learn why we've chosen these four trends to define deployment in 2020.
1) Deploying strategies will become increasingly difficult with over-reliance on outdated traditional technologies
According to Gartner, "strategy conversations are becoming more continual and business unit-led", but that doesn't necessarily translate to more effective Strategy Deployment. Instead, the ever-growing requirements of each function create "more bureaucracy that drags on the business".
This bureaucratic inertia is inevitable while strategy teams continue to rely on traditional tools such as spreadsheets, email and calendars to coordinate enterprise-wide strategy deployment.
The cost of failure to bridge the gap between a defined strategy and the operational undertaking of this imperative is ever increasing.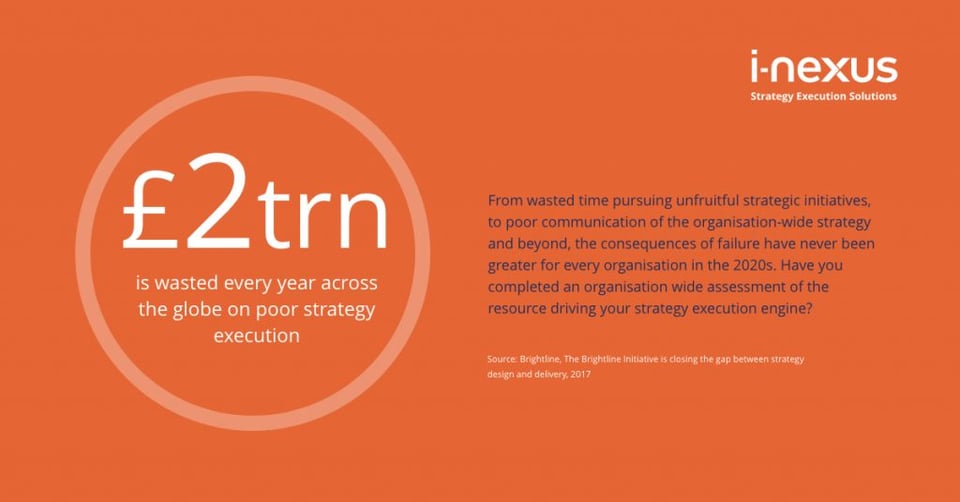 While Microsoft Excel, Word and SharePoint may be adequate for small-scale initiatives with a handful of team-members, they don't scale effectively.
Instead of empowering the business to focus on taking practical action to advance the strategic position, these tools force stakeholders to either spend all their time providing status updates and keeping up with the paperwork, or stop tracking their progress and drop off the radar completely.
Fortunately, new technologies can offer a better solution, which brings us to our next prediction.
2) Digital solutions will support a change in the role of corporate strategy functions
The emerging market for Strategy Execution Management software, led by i-nexus and its customers, is opening new possibilities for delivering strategic change at enterprise scale.
A modern Strategy Execution platform can provide tools that make it easy for senior leaders to define strategic goals and cascade them down through the business.
Then, at the operational level, intuitive mobile apps make it easy for each employee to review and monitor their personal goals, and provide regular, real-time updates on their progress.
As Gartner acutely observes:
"access to tools and data mean the business will do more for itself and expect [the strategy team to deliver] value beyond current functional process stewardship."
In short, while the business will take on more of the day-to-day responsibility for deploying strategy, the strategy function will also need to play a more active role in ongoing strategic management—not just the initial strategic planning.
For example, with new insight provided by Strategy Execution Software, the strategy function will be able to monitor progress and make smarter recommendations about which initiatives to focus on.
As Gartner puts it, the strategy function "will help the business identify low-value or lagging projects to shut down to free up resources for more transformational, cross-cutting growth opportunities."
However, this will only work if the whole organization is on board. Here's our third prediction.
3) Connected action across functions, divisions and regions will be crucial to successful Strategy Deployment
EY advises boards to review the way they communicate with their stakeholders about strategy, noting that:
"if the company's stakeholders have a clear understanding of how the company is addressing today's challenges while focusing on the future, they are more likely to support the company in the long run."
Similarly, for Gartner, a key role for the strategy function is to "[set] up mechanisms to create transparency throughout the organization.
This needs to begin from the very beginning of your strategy's deployment. Consider employing goal cascade and communication techniques such as Hoshin Planning's catchball process.
By employing the catchball process, you can ensure that strategic goals are fully discussed throughout your business, meaning that by the time the strategy has been converted into portfolios of projects, you can know that there is already an aligned intent from every person responsible for the undertaking of those initiatives.
This is another area where a modern Strategy Execution platform will pay dividends. It provides a central repository for all strategy-related data and communication, acting as a single source of truth for all stakeholders across the organization to gain a clear perspective on both their own strategic goals and their contribution to the wider business strategy.
However, while centralizing data is critical to enable connected action across teams, simply capturing the data is not enough—which leads to our final prediction.
4) Data will remain the biggest asset, but data access needs to be simplified
In order to embed strategic data into decision-making processes at all levels of the organization, data capture cannot be a one-way street. There is no value in Strategy Realization Offices, Enterprise Project Management Offices and executive teams designing sophisticated plans and objectives if stakeholders cannot access or understand them.
Equally, there is no intrinsic motivation for operational teams to provide updates on the status of their strategic goals if they can't see how that data is being used and can't understand why it matters.
The very nature of business is to set targets and to measure our performance against their realization. But this performance information isn't always democratized and can be consumed with ease.
That's why modern Strategy Execution software places such a strong emphasis on real-time analytics and actionable insight. In particular, the i-nexus Strategy Execution platform provides reports, dashboards and scorecards tailored to the needs of stakeholders at all levels of the organization.
For example, operational contributors gain instant feedback whenever they submit an update on their mobile app, putting their work in context and showing them how their efforts are supporting the organization's broader goals
At the other end of the strategy spectrum, powerful dashboards enable senior leaders to gain a quick overview and drill down into every aspect of strategic performance, while similar reports break down the same data at departmental level for each intermediate level of management.
As a result, everyone has instant access to the insight they need to make effective decisions and put strategy into practice in their everyday work.
Want to learn more about Hoshin Kanri? Be sure to download our free 24-page eBook as we explore everything you need to know about sucecssfully deploying your strategy in 2020 and beyond!
What are the next steps?
With these trends firmly in mind, i-nexus can help you establish an enterprise-class Strategy Execution platform that will help drive a culture of transformation and deliver a step-change in your performance.
By empowering you to convert strategic visions into far-reaching operational change, our platform will help your business harness disruptive technologies and seize competitive advantage. To learn more, explore our resources below:
The key to Strategy Execution: Uncover the benefits of excellent Strategy Execution, the organizations who have succeeded, and how your business can follow suit.
StratexAssess: Complete a strategic capabilities assessment to gauge your organization's strengths in 2020
How AI will drive Strategy Execution: Learn how Artifical Intelligence will help your deliver superior results from your strategic initiatives
About the author
James Davies is i-nexus' Executive Vice President of Product. As an experienced software executive with 20 years of experience working in Silicon Valley, USA, James has held senior leadership roles in three venture capital backed software start-ups (including CEO, CPO and Chairman) and has delivered management consulting services to some of the world's largest technology companies.
If you'd like to talk more about the future of Strategy Execution, reach out to him on james.davies@i-nexus.com or connect with James on LinkedIn for the latest strategy execution insights.