What is continuous improvement? What are its origins? What does success and failure look like? Discover the basics of the world of improvement and much more in this overview.
Written by: James Milsom, Head of Marketing
The continuous improvement discipline has existed for over 80 years.
Spanning well known tools, techniques and theories including Lean, Six Sigma, PDCA, Kaizen and beyond, it is the language of professionals concerned with increasing efficiency and eliminating wastage in their processes, all in aim of delivering the greatest customer experience.
Indeed, there are many ways to start in continuous improvement and a world of content to explore in greater detail, but this blog acts as your source for getting the critical information on the subject.
It should provide inspiration for those wanting to enter the world of improvement. Likewise, a point of reference to refresh those more well-established practitioners, belts, and consultants who are accustomed to the continuous improvement model and business process optimization.

What is the meaning of continuous improvement?
Continuous improvement (continual improvement) is the ongoing process of targeting and eliminating waste in systems and processes within an organization.
To be truly continuous means:
A commitment to process
Enabling cross-organization collaboration
Embedding a culture of measurement, learning and communication

Everyone in the business must be tuned-in to the purpose of continuous improvement.
Improvements may be incremental in nature, or they can take a more radical form through innovation or technology.
More often, considerable improvements will occur because of incremental improvements.
For those who are seeking to achieve change without considerable investment, continuous improvement does not require substantial investment to achieve improved results.
However, for more breakthrough level change it is worthwhile considering Hoshin Kanri.


The history and evolution of continuous improvement
The improvement world finds its roots in the 1700s, beginning with a focus on improvements identified by employees, and incentives for those which brought demonstrable value to the business.
The history of continuous improvement splits into two – Lean and Six Sigma.
The timeline of improvement is shown below:


Continuous improvement techniques and tools
When seeking to achieve ongoing growth across products, services or processes, any number of process improvement techniques can be adopted. Popular options include:

1) Deming's Plan Do Check Act
A core part of the Six Sigma world, Deming's five step process is covered in more detail here, but at its core it involves the definition of project charters, stakeholder analysis, KPI trees, data collection, root cause analysis and current and future state value stream mapping.

2) Six Sigma
An approach which focus on statistics and data analysis, Six Sigma focuses on defects and encompasses an analysis of your process capability, defects per million opportunities and a measurement system analysis.

3) Lean Management
Lean comes down to what is value adding and non-value adding for your customers.

Once you are clear on your current and future state, Lean interventions are an effective set of tools which can help you address your problems and defects.


4) Gemba Walks
Gemba Walks shine a light on the heart of improvement – people, ensuring they remain core to driving change.

The Gemba is the observation of the process in situ, meaning managers watch the actual production process and use it as a human way to capture data and ideas on how to achieve greater improvement.
But, crucially, these must not be used for open critique.

The spirit of Gemba is observation, reflection and communication to ensure that ideas can be captured. It still requires a means to turn these ideas into action.


5) Kaizen Events
A kaizen event is a five-day workshop with set improvement goals, typically led by a team leader. These focus on:
Agreeing current state
Agreed problem statements and prioritization
Establishing a future state value stream map and identifying potential failures and their effects using an FMEA tool
Setting project charters and plans to set in motion the defined goals
6) Toyota's Katas
Mike Rother's Toyota Kata concept originated from observing the unique behavior patterns at Toyota and its production system.
Katas are the bringing to life of small routines through practice, as opposed to learning by memorizing.

Two Katas are fundamental to Toyota's improvement culture:
Problem solving: Here the focus is on one issue or improvement priority at a time, with swiftness of problem-solving at the core of the Kata
Coaching: Improvement is fundamentally bottom up, achieved through leaders offering guidance on how to resolve problems in the best way
To learn more about the Katas, be sure to read our overview.
Establishing the culture and team for change
For continuous improvement to thrive you must have the leadership, team and culture that promotes change.
However, those ingredients may not necessarily exist in your organization.
Indeed, examining processes and systems can cause a massive disruption to the business as usual of your organization and the people within.
Navigating the seas of change must begin with a stakeholder analysis.
This is a means to understand who the influencers are on your projects, and allows you to set course on how you want to appease and effectively engage with key stakeholders.
To learn more about stakeholder engagement, read our overview and accompanying template.



How to encourage your employees to embrace change
Continuous improvement is a people driven mind-set.
However, encouraging your employees to not only embrace but participate in change can be a time-consuming activity in and of itself.
Consider these points to drive greater up-take and participation in your projects:

1) Establish an understanding of current or past improvement activities. What was the feedback, what worked, what didn't? Find lessons from the past.

2) Survey your business to gauge the appetite for change, means of capturing ideas (think suggestion boxes, use of continuous improvement software, one to one meetings etc.), and the willingness to involve improvement in their daily activities.

3) Analyze your survey's results and put in place an action plan to introduce the correct measures to reduce the barriers of successfully adopting an improvement mentality.
Factors of change mangement
1) People
Using a stakeholder analysis, understand who in the business is affected by improvement, and research ways to engage your employees in the process, such as incentives for ideas or introducing training and progression opportunities.



2) Tools
Value Stream Mapping is a useful tool to begin with and will, again, help you to understand the players and processes involved in the areas you want to target for improvement.

This will bring to the forefront those people who you will need to nurture and engage with the most.



3) Technology
Consider the role of continuous improvement software and whether it is the right fit for your business as it moves forward with change.

While introducing new technology can be daunting, it is the future of continuous improvement in 2020 and beyond.
In fact, modern platforms make use of digital walk-through add-ons to fuel adoption, collaboration, and crucially, will enable you to demonstrate the value of your improvement efforts, which will only lead to more engagement in continuous improvement.
Measuring the success of your continuous improvements
Conducting continuous improvement is simply not enough.
There must be a willingness to interrogate results and find ways forward to ensure that improvement remains continual.
The journey to business excellence has many elements, but a learning mentality will drive repeated value from your improvement projects.
For some organizations this is embodied in a learning management function, or perhaps a project management office.
Whatever the guise, this team will examine the data of improvements and shine a light on how to make this sustainable.
They will seek to drive down further defects and achieve more efficiencies, as well as upskill staff to become perhaps a green or black belt in methods such as Lean Six Sigma.
To appreciate the effect of a process or project, this evaluation should take place after implementation.
With time comes the benefit of reflection and impartiality to truly review what has happened.
Some metrics to measure in relation to improvement projects can include:

a) Customer satisfaction
What are your customer service ticket rates, how often are orders completed without issue?


b) Customer retention / repeat purchases
Churning customer bases must be avoided, so gauge repeat purchases, the percentage of customers retained YoY / QoQ / MoM etc.


c) QCD: Quality, Cost and Delivery
Assess the ability of your product / service to meet customer demands (durability, reliability, perceived quality), the costs of producing it (materials, labor, overheads), and delivery in form of getting products to the customer (time to ship and receive the product).

d) Safety
Measure how often a health and safety matter is reported and the impact on your production, the cost of compensation etc.


e) Time
Compare how long a process takes before and after your improvements.
Has that impacted greater production and more revenue (or perhaps decreased revenue due to increased supply and a demand which doesn't match)?


f) ROI
Financial departments often focus on this, but it is a true gauge on how your business is performing.
Here, consider the cost of implementing your project and the savings targeted from implementing the improvement vs. remaining in the current state.
This can be hard to prove without continuous improvement software which connects your projects to goals and your goals to your strategy, however.
Common challenges with continuous improvement
Whether you are a continuous improvement manager, leader of the PMO, consultant, or a beginner in the world of improvement, there are core challenges you must be aware of:


1) Reason and purpose
The reason you are there and the shadow it can cast - you may be seen as being in the business to cut heads.
2) Leadership mentality
Are your leaders there to embrace change and support you, or will they act as resistors?

3) Existing knowledge and capability of people
Product / business knowledge can be empowering, but also overpowering. Combined with people's capabilities, you must be wary of the people involved in your improvement projects and how to get the most out of your team.

4) The base operational standards as a stable foundation (including data availability and quality)
How available is data in your business, is it treated as gold dust, or is there a reluctance to listen to data and instead focus on narrative?



5) Fit for purpose method
Do not over engineer, nor cut corners, and certainly do not apply a improvement framework which is ill suited to the business.
6) Business as usual
Competing with the day to day is a harsh reality.

Be it securing the right people for your improvement team, or simply winning the hearts and minds of staff who are in constant fire fighting mode, the day to day can take the spotlight over your improvement initiatives if not addressed effectively.
7) The risk and opportunity of technology solutions
We're living in a COVID-19 world and that means there is plenty opportunity to adopt technology and embrace virtual continuous improvement, but be wary of the software you choose.

If you cannot link your improvement to your business' strategy and demonstrate ROI, steer clear.
The role of continuous improvement software
High-performing organizations are continuously evolving and improving, taking every available opportunity to better themselves.
The result is scores - sometimes hundreds – of simultaneous improvement and Kaizen activities.
Now, imagine if all of these projects are fully aligned around clearly-communicated goals, tracked real-time through their execution, and their results measured using published KPIs.
While there are many continuous improvement solutions available to you, the i-nexus Strategy Execution Management platform allows you to connect your improvement efforts to the rest of your business' strategic activities.
Here your teams can capture improvement goals and explore which projects best match your goals, before managing and coordinating these projects; from concept and charter, through execution, to results and reporting.
To learn more about how i-nexus continuous improvement software can support your efforts, head over to our improvement solution overview or click below for an online demo.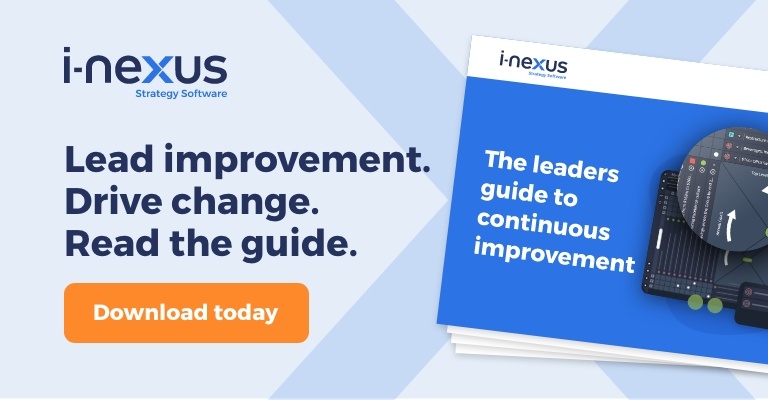 Continue learning about continuous improvement
Continuous improvement remains a fascinating area of business management to not only learn about but also introduce and optimize in your organization.
I trust that this overview has whetted your appetite in finding out more about the world of improvement.
Click here to learn more about continuous improvement, or take a look at these content recommendations:

About the author
James Milsom is Head of Marketing at i-nexus. James has wide-ranging experience of markets such as telecommunications, energy, education and software.
As Head of Marketing, his drive is to raise awareness and understanding of the challenges facing enterprises in delivering strategic objectives and transformation amidst changing markets and the obstacles traditional tools and methods present leaders.

If you'd like to talk more about Strategy Execution, reach out to James on james.milsom@i-nexus.com or connect with him on LinkedIn for the latest insights.