What is it that makes a great leader of improvement? From cultural awareness to empowering your team, these are the 5 things that all great leaders possess in the world of Lean, Six Sigma, Process Excellence, and beyond.
Written by: James Milsom, Head of Marketing
In a rapidly evolving and constantly disrupted world, where new technologies offer solutions and challenges appear at seemingly break-neck speed, leaders have had to keep pace with their management style and keeping their teams motivated.
Through economic downturns and market booms, there are essential traits of every leader which remain a constant, and today we're exploring 5 characteristics of successful continuous improvement leaders.
1. They're culturally aware
A primary culprit of failed projects is poor culture.
We've written about the importance of building a continuous improvement culture, but it's worth looking at it through a leadership lens.
The role of the improvement leader involves spearheading the planning, executing, and tracking of a change portfolio, either within a team, business unit, division, or entire organization.
This is a monumental scope of change to manage – people, processes, systems, and more.
A heavy-handed leader is one who fails to account for the culture of the business they are operating in.
Perhaps that is an employee's resistance to the consequences of the change in front of them, the process of implementing the change, or not fully understanding the benefits of the change.
Or, has change failed in the past? Is the organization made of siloes where knowledge sharing and innovation are shunned?
If your business does not provide the foundations for employee engagement, participation and sharing knowledge, effort must be made to embed this before embarking on continuous improvement.
And, naturally, that leads to the importance of managing change.
2. They nurture change
Continuous improvement is a synonym for change management, in its simplest form.
A great leader will provide a vision of change, support their teams and be a model of appropriate behaviors to make the change a success.
We resist change because it is the unknown.
Mergers and acquisitions face considerable challenges with employees who feel they are part of the fabric of their organization and do not want to adopt a new company name, set of values etc.
In improvement, you are challenging your company to look at what is working and what isn't work and build on that towards a more successful, less wasteful future.
In regard to nurturing change, there are some things that successful leaders consider:
Feeling – Is your team excited, apprehensive, angry, or upset about the change?

Thinking – How are they reflecting on the change – do they question the necessity or outcomes?

Behaving – Are they open to suggesting new ideas, participating or disrupting workshops, and value stream mapping exercises and kaizen events?
Addressing the change head-on means nurturing the process in three ways:
Preach – Communicate the value of improvement and the examples of success

Enable – Create virtual suggestion boxes and create time to participate in projects

Reward – Document success, communicate outcomes and incentivize participation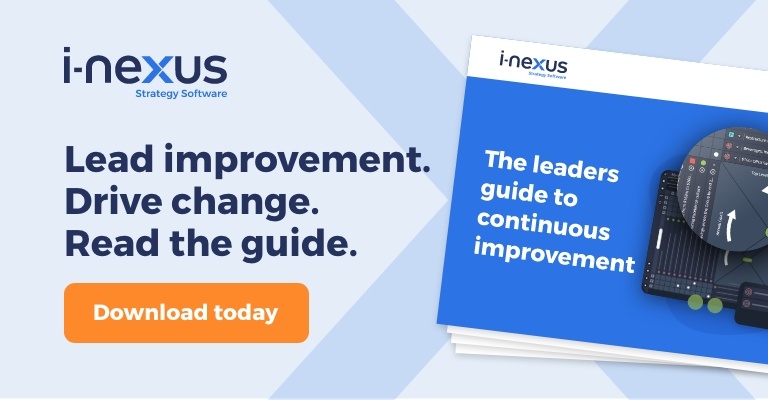 3. They're politically deft
While a lot is said about the importance of managing down with improvement (and improvement teams managing upwards to their team leaders), it is worthwhile noting that improvement leaders must, and are, adept at managing upwards to their seniors.
A stakeholder assessment and engagement plan is a great start.
Understanding the motivations of your Chief Financial Officer, Chief Strategic Officer, and Chief Revenue Officer is vital to how you communicate value, progress, and future ideas.
A successful continuous improvement leader navigates the political minefield of different key stakeholders keeping these tips in mind:
Understanding their audience – Map out your different stakeholders, their motivators, how they consume information and what they want from your improvement program



Present facts – Using

continuous improvement software

which centralizes the planning, execution and tracking of your project portfolio will enable you to present objective facts to support your conversations. Facts are valued above hearsay.



Solve problems – If you present challenges, offer solutions to overcome them. If you have poor engagement in projects, suggest project sponsors sit in on events to view the challenges in situ and then offer a way to overcome disruptive members.



Be specific – If you need to sacrifice a poorly performing project over another, and you can be specific on the causes of this poor performance, highlight what this is and how you would pivot the portfolio and what the projected benefits of said change would be.
4. They're empowering and collaborative
The importance of culture is clear throughout all improvement literature and thought leadership.
And as part of that cultural conversation is that humans are at the center of it all.
Whether it's the fact that the reason you are conducting process and systems reviews is to deliver a better experience, or your teams providing ideas to improve customer experience, humans are core to it all.
Instead of dictating to your teams what projects should be run and the tools to be used, use your advice to influence and guide, but not dictate.
Empowering improvement professionals is about delivering the foundations for those team members to co-lead change, break down siloes and make continuous improvement sustainable.
Whether that's investing in training programs, providing templates and mentoring, or adopting digital solutions to remove wasted efforts and replicate best practices, successful leaders will empower their team to drive improvement throughout the business every day.
5. They're supportive
Last, but certainly not least is the supportive side of leadership.
This is an extension of the above in so far as mentoring and using your experience to develop your team's skillset and help them pass on that knowledge further down the line.
Being supportive looks like words of encouragement, offering educational resources, helping your team to learn from failings, and being there for whatever reason.
Improvement is a uniquely challenging discipline in a business, it involves change management, analytical skills, and attention to detail.
Much can go right, but equally can go wrong along the way, so having a supportive leader can make a world of difference.
Continue learning about continuous improvement
As you lead change in your business there are indeed core skills and traits that successful leaders possess.
However, it is important to avoid becoming stagnant, and to that end, we recommend clicking here to learn more about continuous improvement or viewing these content recommendations:
About the author
James Milsom is Head of Marketing at i-nexus. James has wide-ranging experience in markets such as telecommunications, energy, education, and software.
As Head of Marketing, his drive is to raise awareness and understanding of the challenges facing enterprises in delivering strategic objectives and transformation amidst changing markets and the obstacles traditional tools and methods present leaders.

If you'd like to talk more about Strategy Execution, reach out to James on james.milsom@i-nexus.com or connect with him on LinkedIn for the latest insights.