As we move through and beyond the COVID-19 world, continuous improvement and project management have had no choice but to adapt. From remote tools, software, and guides to templates, videos, and advice on running Kaizens, these are the resources you must know in 2022.
Written by: James Milsom, Head of Marketing
In early 2020 we published our view on the templates and resources that every improvement professional needs to know about (available here). What we did not anticipate was the monumental wave of change and disruption that was about to take place with COVID-19.
Since that time, the world has changed in many ways. But importantly, during that time, our priorities and approach to work and life were brought into focus.
Two years after the outbreak of coronavirus, we found ourselves reviewing the tools that we suggested, asking ourselves which of these are still valid and what are we missing to help you in this new normal.
The result is this refreshed list of continuous improvement resources which reflect that change, and give hope and inspiration for a world in which we emerge safer, even more, focused on delighting our customers and carrying our colleagues and lifting up our business on its pursuit to enterprise excellence.
These are the continuous improvement templates, videos, guides, and beyond that, you need to know in 2022.
What is continuous improvement?
We began our list with what we believe is a foundational must - answering the question of what continuous improvement means.
And, we continue that with the start of the 2021 improvement resource list.
However, there are some differences as we continued to navigate through the change.
That's why we recommend three different pieces of content:


1) eBook - 'The Beginners Guide to Continuous Improvement
This is the perfect companion to anyone who embarks on the operational excellence journey.
What sits within is a solid-start into standard definitions of continuous improvement frameworks, compare and contrasts covering Lean and Six Sigma (often confused), and it comes with a wealth of advice on DMAIC, root-cause problem-solving techniques, stakeholder engagement planning, and more.
Click below for your free copy.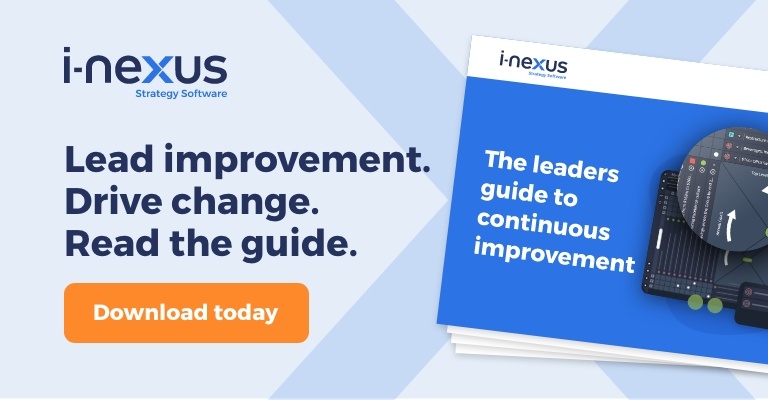 2) Blog - 'What Is Continuous Improvement?'
And that leads into the second beginners' content around improvement.
There are many starting points in the improvement world, but this is the blog that gives you a critical source of introductory material.
Covering Toyota Katas, Gemba Walks, and a timeline of continuous improvement's history with the likes of Goss, Motorola, and General Electric, it's a snapshot of content worth sharing with anyone interested in the subject.
3) Guide - 'Navigating The World Of Continuous Improvement'
COVID-19 has given somewhat of a rebirth of improvement in organizations. The route to competitive advantage, and indeed differentiation, has become harder thanks to the rise of digital business. Stepping out of the shadows requires a change, but that needn't be a wholesale transformation program.
Indeed, it can begin by looking at the likes of Toyota, GE, Ford, Motorola, and Nike with their efforts to engineer processes that deliver incremental value over time, while strategic portfolios are executed in tandem.
This guide is a collection of all the content produced by i-nexus in the space and offers a partner to support you as you move through the stages of delivering business excellence.
From eBooks, webinars, and videos, through to Excel and PowerPoint improvement template packs, with regularly updated content it is a mainstay in the bookmarks of operational excellence professionals.
Click here to access the guide.
Why is continuous improvement challenging?
Last year we provided an overview of the many reasons why improvement is challenging, but as we received feedback from our audience we found that more challenges were emerging as they executed improvement projects and Kaizens through COVID-19.
The result? Content that went straight to the core of the issues that you were facing:


1) Blog - '9 Challenges Leaders Face With Continuous Improvement'
Leading improvement is about more than project management.
In this blog we addressed 9 challenges that stand between you and success, covering COVID-19, change management, stakeholder engagement, and technology.
A critical question we ask is whether the business is ready to embrace change, or will there be resistors on your journey?
The truth is that leading improvement and getting to a point of operational and process excellence is universal. Regardless of job title, function, or division, it is through a combined effort that your organization can drive down wastage and truly delight customers.
This is the blog for you if you want to step up and take the challenge head-on.
2) Tool - 'Assessing Your Operational Excellence Gaps'
We speak often of the strategy to execution gap with regards to delivering strategic portfolios and their expected outcomes, but this too applies to operational excellence and continuous improvement.
As we moved through 2020 into 2021 we noticed more conversations around the blockers of delivering projects and portfolios central to your improvement program.
The result was a tool known as StratexAssess.
Using this tool you can pinpoint the readiness of your business to embrace change or to move through plateaus and replicate best practices across the enterprise.
From completing the assessment you are given a view of the gaps in your business excellence, giving a hit list of weaknesses to address.
Click here to complete StratexAssess.
3) Blog - 'Getting The Most From Improvement Software'
If you are in a position where you are using continuous improvement or project management software in the business, how can you get the most from what's available?
This blog addresses seven ways that you can ensure maximum value from your investment in an improvement platform.
The truth is that any software investment is an investment that will require buy-in, and inside we look at answering first and foremost why you should want more from your improvement software.
From systems integration, stakeholder engagement, user groups, and developing a training system, to monitoring and rewarding usage, it offers practical advice to businesses when a return on investment is crucial.
And as a reminder of the 2020 challenges...
Improvement Podcasts
One area of content which has certainly boomed over the course of the 2020s is that of the humble podcast, and the improvement world certainly hasn't missed the opportunity to delight the earbuds of your colleagues.
Of particular note is Gemba Academy's podcast series which tackles topics such as:
Mental health and how Lean can support happiness
How to adopt a growth mindset
The power of 3P
The role of Operations leaders in Lean
How to use Visual Management
These short, sharp, and straight-to-the-point podcasts are a mainstay in our podcast playlist, and after one episode we're sure they will be in yours too.
Click here to listen to Gemba's Lean and mental health podcast
An honorable mention goes to Leaders in Continuous Improvement, with its frank and honest portrayal of the challenges we face in our pursuit of excellence - available here.
Continuous improvement, Lean and Six Sigma Excel templates
As with last year, our improvement templates across root cause analysis and the 5 Whys continue to prove popular, and these Excel sheets are a great way to conduct your improvement work:
Improvement videos
If you are more of a visual learner, YouTube proves home to thousands of videos covering topics around the continuous improvement world.
From educational, step by step overviews to more light-hearted content to bring a smile to your face in even the most challenging of days, here are some videos you really should watch:


1) Kaizen Institute's Virtual Gemba Walk
2) TED Talk: Fooling Penn & Teller with Lean Principles:
3) Process Engineer: A day in the life:
Improvement books
In our 2020 list, we mentioned a couple of texts worth diving into, and in 2021 we found ourselves reaching for our tablets in search of more inspiring content around the improvement world.
These are the three standout continuous improvement and operational excellence books that we read from cover to cover in record time:


1) Miller et. al's 'Creating a Kaizen Culture'.
Miller speaks clearly, and with authority, about culture with regards to relentless and successful continuous improvement.
Within you will find the 10 principles of Kaizen. These include finding solutions to mistakes and letting go of assumptions, which are core to creating a culture and processes where improvement can result.
2) Chip and Heath's 'How to Change Things When Change is Hard'.
Chip and Heath tackle the challenges of change management in this 2011 book.
But they go beyond change on the shop floor or in our processes. In fact, they look at the blockers to changing in our personal lives.
'How to Change Things When Change is Hard' is not a guide on how to make change easy. It is a humble approach to addressing the reality that change is indeed challenging, but the outcomes are worthwhile, in success and failure.
3) Gerhard Plenert's 'Driving the Enterprise to Sustainable Excellence: A Shingo Process Overview'.
When you comprehend Plenert's experience in the Shingo process and continuous improvement as a science, it is truly staggering. Ranging from Johnson & Johnson and Shell to Microsoft and Cisco, his guide to sustainable excellence is a treatise into space.
Plenert's guide superbly addresses the requirements and benefits of the Shingo process and explains the focus which comes from establishing a truly enduring enterprise-wide continuous improvement.
Guidance: Value stream mapping and Kaizens
Two topics that have been somewhat challenging given the social distancing practices during the COVID-19 period are value streams and Kaizen events (not to mention Gemba walks).
Working remotely has forced organizations to adopt communication tools such as Webex and Teams to conduct morning huddles and virtual value stream mapping exercises, and Kaizen events are no exception.
However, the basic principles of future and current state process mapping and hosting a Kaizen event remain. To that end we recommend both budding learners and seasoned professionals dip into our selection of content to help you fine-tune your communal improvement events:

And if you are in search of something more inspirational, look no further than our overviews and predictions for the growth of Lean and Six Sigma management, as well as quantifying the benefits of operational excellence:
Industry publications
Closing off our list of 2021 continuous improvement resources is our list of industry websites and publications.

While there are endless sources we could recommend, these are frequently visited each morning:

1) PwC

2) Forbes

3) HBR

4) Manufacturing Tech Insights

6) Project Management Institute

7) Brightline

8) StratexHub

10) Gemba Academy

11) Kaizen Institute

12) PEX Network

And honorable mentions for LinkedIn groups...

1) Trends in Portfolio Management
2) Transformation Alliance
3) Projects, Programmes and PMO
4) Change Management UK
5) PPM Project Portfolio Management

Want to learn more about improvement?
To learn more about continuous improvement and operational excellence visit our knowledge hub and explore our resources below:
About the author
James Milsom is Head of Marketing at i-nexus. James has wide-ranging experience in markets such as telecommunications, energy, education, and software.
As Head of Marketing, his drive is to raise awareness and understanding of the challenges facing enterprises in delivering strategic objectives and transformation amidst changing markets and the obstacles traditional tools and methods present leaders.

If you'd like to talk more about Strategy Execution, reach out to James on james.milsom@i-nexus.com or connect with him on LinkedIn for the latest insights.