We're excited to share some fantastic news with all our loyal listeners and fellow Strategy Heroes. The Strategy Hero podcast has achieved a remarkable milestone by securing the 10th spot in Feedspot's list of the Top 30 Business Strategy Podcasts. It's an accomplishment we are incredibly proud of, and I wanted to take a moment to express our gratitude and share some insights on how we got here.
With a library of over 100,000 podcasts, in over 1,500 niches and sectors, Feedspot is one of our key distribution partners to ensure our podcast can reach as many viewers as possible. We're thrilled to have been included in their 30 Best Business Strategy Podcasts.
The criteria that got us there

Feedspot's ranking criteria for podcasts are built on four fundamental pillars:
Expertise and Credibility: This speaks to the depth of knowledge and authority our podcast brings to the field of business strategy.
Content Quality and Relevance: We've always aimed to provide high-quality, relevant content that helps our audience understand and navigate the intricate world of strategy.
Longevity and Consistency: Whilst our podcast may be new, and doesn't yet have the longevity, our consistency between episodes is already being demonstrated, bringing you the latest trends and strategies.

Audience Engagement:

We wouldn't have reached this milestone without our dedicated listeners. Your support and engagement have been our driving force.

The Feedspot methodology
Feedspot's list is meticulously curated using a multi-faceted approach:
Research Team: Their dedicated research team scours Google and various podcast search tools to uncover hidden gems like ours.

Podcaster Submissions: Podcasters can submit their shows to Feedspot for consideration. Our inclusion in this esteemed list demonstrates our dedication to sharing valuable insights with the world.

In-House Media Monitoring Tools: Feedspot employs advanced media monitoring tools to discover podcasts across niche categories.
Once identified, our podcast underwent thorough scrutiny by Feedspot's expert editorial team. It's a process that ensures only the podcasts that offer industry insights, news, and personal opinions make the cut. The ranking favors those that genuinely enrich the audience's understanding of the subject matter.
Continual improvement and dedication
When we launched the Strategy Hero podcast on June 29 2023, just over two months ago, we never could have anticipated the early success we've seen.
Our first two months have seen us release three episodes, starting wirth Pascal Dennis as he answered the question "Is Lean enough?".
We then followed Pascal with an episode featuring Rachel Neaman, the first Chief Digital Officer for the UK's Department of Health.
Most recently we've released an all Hoshin Kanri episode focusing on the 4 Cs of Hoshin Kanri with Fredrik Fjellstedt.
With over 300 downloads and amazing feedback from both guests and listeners alike, we're already thinking ahead to what season two will look like.
We understand the importance of continually evolving and staying relevant. That's why we're committed to delivering valuable content that empowers you to become your very own Strategy Hero.
Our podcast episodes delve deep into the realms of operational excellence, Lean management, process improvement, change management, and so much more. We're dedicated to bringing you thought-provoking conversations with strategy leaders and pioneers from all walks of life.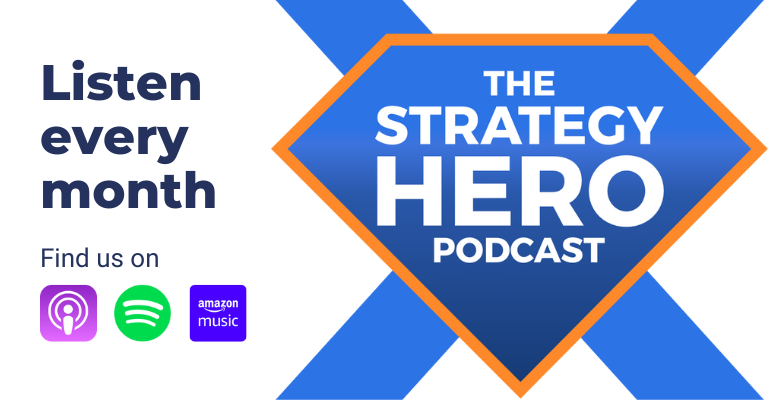 Thank you, our Strategy Heroes!
None of this would be possible without the unwavering support of our listeners. Your engagement, feedback, and enthusiasm are what inspire us to keep pushing the boundaries of business strategy knowledge.
If you haven't yet had a chance to dive into our podcast, now is the perfect time. Join us on this journey, and let's uncover the Strategy Hero inside you together.
You can listen to the Strategy Hero podcast on-demand, available wherever great podcasts are found. Stay tuned for our upcoming episodes as we continue to explore the ever-evolving world of business strategy.
Thank you for making the Strategy Hero podcast a part of your learning journey. Here's to reaching even greater heights together!
About the author
Sam Ancliff is the Demand and Lead Generation Manager at i-nexus, and the Producer of the Strategy Hero podcast.
In his role, his drive is to provide leaders with the tools and insights they need to make next-level decisions in their businesses and organizations.
If you'd like to talk more about strategy, contact Sam at sam.ancliff@i-nexus.com or connect with him on LinkedIn for the latest insights.