Companies like Danaher, Ingersoll Rand, and Xerox can teach us a lot about adopting the principles of Hoshin planning. Read on to discover how three organizations have put their own spin on the system and process with these Hoshin case studies.
Written by: James Milsom, Head of Marketing
Planning, executing, and tracking goals must be done right. A successful strategy (and implementation) makes market leaders. Every decision must be aligned with your goals, with effective communication and absolute clarity of your progress, underpinned by a strategic methodology.
While Management by Objectives remains a popular strategic framework, Policy Deployment (Hoshin Kanri) has risen to prominence since its inception from the Lean movement in Japan in the 1950s.
This is for good reason. The Policy Deployment process is heralded as one of the most rigorous strategic methodologies due to its linking long-term and immediate actions, as well as being a foundation for coordinated, cross-organizational planning.
Organizations like Danaher, Ingersoll Rand, and Xerox illustrate the transformative power of a well-executed strategy through an effective goal cascade via Policy Deployment. Read on to learn their stories with our collection of case studies.
Case study one: Danaher
Danaher is a leader in Hoshin Kanri and operational excellence
Danaher is a global science and technology innovator with multi-billion-dollar businesses in life sciences, diagnostics, environmental and applied solutions, and dental markets.
In the last three decades, they have bought, integrated, and improved the performance of hundreds of acquisitions.
What you need to know about the Danaher Business System
Originally known as the Danaher Production System, Danaher's system was based on the best Lean practices coming out of Toyota in Japan in the mid-1980s.
The focus was to build competence in Lean for the next 15 years, driving waste out of the system and implementing a toolbox of continuous improvements for every facet of the production environment.
In 2001, the logic of the Lean approach extended to growth opportunities, and Danaher built a similar toolbox to enable the company to be just as rigorous in sales and marketing as they had previously been in production.
The toolbox was not a static one and was continuously refined and improved over the years as part of the Kaizen philosophy.
In 2009 a third area was added – Leadership. The combination of Lean, Growth, and Leadership provided Danaher with a complete business system.
Danaher Business System overview video
How Hoshin Kanri helps Danaher's system
It is through Hoshin Kanri that Danaher converts their top-level strategy into execution using the Hoshin x-matrix as part of the toolset.
Annually, each of the Danaher operating companies creates a strategic plan that identifies opportunities along two tracks:
Improvement opportunities that exist around running the business day-to-day, and
The more challenging opportunities involve larger or breakthrough transformations.
These translate into improvement priorities and, depending upon the nature of improvement priorities, a decision is taken on which toolsets across Lean, Growth, and Leadership will be used.
Progress on the various programs, projects, and action plans will then be measured monthly, or more frequently, against the relevant KPIs.
Using this annual process to cascade, align and manage the vast array of initiatives, and measure the outputs to a regular drumbeat has delivered stellar performance for Danaher.
What can we learn from Danaher?
When examining 25 years of Danaher's total shareholder return vs. S&P, 2001 and 2009 hold significance.
It isn't coincidental that the share price dramatically increased as Lean methodology grew into functions and areas beyond the production environment.
It is the Hoshin Kanri strategic planning process that ensures that planned improvement will drive commercial performance in its broadest sense in the most efficient way.

Case study two: Ingersoll Rand


Ingersoll Rand's Operating System is an example of how to efficiently build operational excellence with Lean
In 2009, Michael Lamach was appointed President and COO of Ingersoll Rand, and launched a transformation program to build operational excellence based on Lean principles.
This was a key element in his pursuit of achieving premier performance.
Developing Ingersoll Rand's business operating system was critical to implementing operational Excellence as it provided a systematic way to grow and improve execution.
There are four key elements: the goal deployment process, functional excellence, value stream transformation, and ensuring the company has common systems.
Goal deployment
Ingersoll Rand uses an organization-wide, structured process to align and deploy breakthrough goals, annual goals, actions, and metrics.
The process is highly effective as it provides accountability for selecting, aligning, prioritizing, measuring, and monitoring goals.
Alignment and common purpose is established via top-level company goals cascaded down throughout the organization.
Functional excellence
Each function at Ingersoll Rand develops, governs, and improves its work to accelerate its success. As a result, each function supports growth, margin expansion, and working capital improvements.
Value streams
Value streams are implemented across the company, with product management, engineering, and integrated supply chain team members working together to define new products, solutions, services, and processes.
This coordination also results in faster time-to-market, increased productivity, and improved quality and delivery.
Common systems
Using a global enterprise resource planning (ERP) process and technology ensures agility and the ability to accelerate operational excellence across the company.
Outstanding Results
The results from using Hoshin Kanri, together with the other four elements of the business operating system, have been outstanding.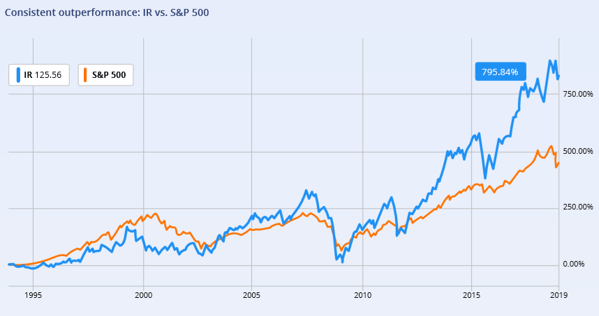 The growth of Ingersoll Rand along its Hoshin Kanri inspired journey
Complexity and waste have been dramatically reduced. Meanwhile, growth programs are led by multi-functional product growth teams all working towards a common, well-communicated goal.
Ingersoll Rand has brought its people, processes, and production together, managing its strategy in a coordinated way, with Hoshin Kanri continuing to provide visibility on how each employee fits into the wider plan.
What can we learn from Ingersoll Rand?
A well-defined business operating system is the backbone of success.
Ingersoll Rand, Danaher, and Fortive's (and the Toyota Production System) success speak volumes.
Consider your existing processes and systems and if they hinder or support your strategy execution.

Case Study Three: Xerox
Xerox's customization of Hoshin Kanri integrates daily management with strategy
Policy deployment is widely acknowledged as being used in most large Japanese businesses to provide a core capability that integrates strategy and daily management, and Xerox UK uniquely adopted this methodology.
Xerox UK employs thousands across 50 locations for sales and marketing, supporting Xerox Corporation's focus on manufacturing and selling print and digital document products and services in more than 160 countries.
Structural complexity
Given the scale of Xerox, naturally, its organizational structure could easily present significant challenges in aligning and engaging its workforce in ensuring their efforts support the achievement of its goals.
With four Business Development Units, regional Customer Business Units which covers sales and service, and then centralized corporate functions of legal, finance, quality, HR, and corporate communications, this is one layer of complexity.
Considering that business processes are based on customer groups, not specialized functions, and a widely dispersed workforce, Strategy Execution becomes increasingly difficult.
Beyond Total Quality Management
Having originally applied Total Quality Management (TQM) in the 1970s, the results of this slowed down, calling for a major review of corporate strategy in the early 1990s, which involved Fuji Xero, an avid applicant of Hoshin Kanri.
Today, Xerox UK has nearly 30 years of Policy Deployment experience, with Xerox Corporation tweaking this to their Managing for Results methodology.
Originally seen as a manufacturing system, Xerox UK's choice to adopt Policy Deployment as the name, specifically, their FAIR framework, as opposed to Hoshin Kanri was a conscious one at that.
Reluctance by a sales and marketing-focused business to adopt TQM and Hoshin Kanri was because of the inherent link between those and manufacturing. Thus the birth of the FAIR (Focus, Alignment, Integration, and Review) framework.
Xerox's FAIR model incorporates Lean and Hoshin Management
Focus
This is derived from Xerox Corporation's vision.


Alignment
Aligning local-level employees is achieved with their Blue Book and Employee Guide to Policy Deployment.
Intended for managers by choice, this is the guide for cascading the key programs and includes information on each sponsor and program scope.

It also includes details on the role of managers in communicating the programs. The managers will translate, communicate, negotiate and define goals (catchball) and projects using this information.

Other supporting documents are summary sheets of how individuals contribute (Roles, Responsibilities, and Objectives), and Start Year presentations, which go through the Blue Book and Employee Guide.
Integration
As part of the framework, Xerox is mindful of integrating its other systems for a comprehensive approach.
This includes their TQM system (Leadership Through Quality) and their business management model (Xerox Management Model - XMM). Certification in XMM drives even greater alignment in process and thinking.
Review
Three levels of management review occur. The first two are at the business unit and company levels.
Each business unit has a management team that conducts a monthly review where short-term action is identified.
For Xerox UK, the Quality Management owns these, but they also take place at a central level where the Managing Director and Heads Of review overall progress. These reviews are not solely about the key programs.
Operations Reviews are also conducted every quarter, with senior managers reviewing performance with each unit's general manager and staff, with an agenda focusing on achieving strategic consistency.
What can we learn from Xerox UK?
In its first iteration, Hoshi Kanri within the FAIR framework yielded results but stuttered due to inconsistent reporting and likely a combination of fearing accountability and failure, meaning leadership was misaligned to strategy.
However, by 1998 a change in leadership resumed performance.
The new Managing Director's approach was to streamline the documentation and form a central function to oversee the deployment.
This demonstrates the risks of over-complicating Policy Deployment. It is a clear lesson for any business applying Hoshin, Policy Deployment, or their business system, such as Xerox, for their strategy.
Learn more about Hoshin Planning
Click here to learn more about Hoshin Karni
, or take a look at these content recommendations:

About the author
James is i-nexus' Head of Marketing. Bringing a passion for strategy from a marketing angle, you'll find he loves to intertwine sports and strategy. His background covers energy, broadband, education, and employee benefits.
If you'd like to discuss your strategic challenges, reach out to James at james.milsom@i-nexus.com or connect with James on LinkedIn.